St Margaret Clitherow Academy is a loving, caring and serving Catholic community ambitious to educate our children to thrive personally, academically and spiritually.
By placing the person and teachings of Jesus Christ at the centre of all that we do, we will:
Embrace the Gospel Values so that by aiming high everyone fulfils their potential and our differences are respected and celebrated.

Like St Margaret Clitherow, have the integrity, faith and courage to show our love of God to all.

Make the best use of our gifts to serve God, our Church and those who need us.
​'Love one another as I have loved you,'   John 13:34
Our Values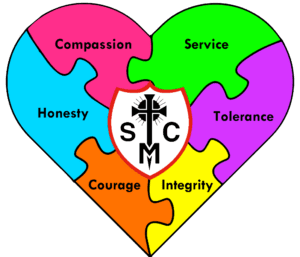 Our Values focus our attention on this commandment. At St Margaret Clitherow, we believe that "Gospel values cannot be values chosen subjectively from the vast corpus of the Old and New Testaments but are objective values revealed to us through Christ's proclamation," (Christ at the Centre 45). Our Values are therefore rooted both in the Gospel Values Jesus taught us in his proclamation: "The Beatitudes" and in the example of Integrity, Courage and Faith shown to us by St Margaret Clitherow.
At St Margaret Clitherow, we recognise that for children to fulfil their potential, the Gospel values need to be explicitly named, defined, modelled and for all pupils to be supported to understand how they relate to their lives both at school, at home and in society. We use the examples of Jesus, St Margaret Clitherow and the teachings of the Catholic Church to develop children who have a strong faith in God; a passion to celebrate each other and live out their faith; a sense of integrity; the knowledge of what's right and wrong and the courage to serve others and to speak up for their beliefs and what is right.
Love
Love underpins everything that we do. It is very much 'the why' of who we are. We show love in our relationships with each other and in our actions to support our community and our world. We see love in our interactions at school and home; feel it when we are together, and experience it through how others act towards us.
Faith
Faith is a firm foundation under everything that makes life worth living. It is rooted as our faith in God but it is also a firm faith, trust and confidence in ourselves and others. We want our children to grow the faith that they have in themselves and develop their own core beliefs, as they leave our school and take their place in the world.
Compassion
Compassion is the desire to act fairly, with an attitude of kindness and forgiveness, meaning you are willing to forgive and reconcile friendships. Compassion means showing kindness and sympathy to everyone. You would never want anyone to be upset. Compassion means someone else's heartbreak becomes your heartbreak. Another's suffering becomes your suffering.
Honesty
Honesty and telling the truth at all times are highly valued by God. Honesty is telling the truth about things and doing the right thing even if no one is around. We are a telling school, meaning we tell an adult if we see someone being unkind, hurting someone, doing damage or taking something that is not theirs. This is how we can help keep everyone safe.
Courage
We try to be courageous in all that we do, following the examples of Jesus and St Margaret Clitherow. We always try to have courage, whether this is in trying something again, carrying on when we are hurt or trying something new. We believe that courage is persevering and trying something, even if you don't think you can do it.
Service
Service means we make intentional decisions and actions to benefit others. Serving God means we put others above ourselves. We can show service to others in school by helping them when they need it. We can also show service by raising money for charity for those in need.
Tolerance
Tolerance is treating people the way you want to be treated, even if you don't share the same opinions, ideas or beliefs. Even if we don't agree with someone, we still need to treat them with respect in our words and actions. Tolerance is an expression of acceptance, forgiveness and God's unconditional love.
Integrity
Integrity means having attitudes based on the gospel teachings of Jesus with a commitment to truth, responsibility and purpose. A person with integrity behaves ethically and does the right thing, even behind closed doors. Integrity is knowing what is right and choosing to do what is right, even if it isn't what you would like to do.