EYFS
We believe that the EYFS is fundamental in ensuring that our children get the best start to their education at St Margaret Clitherow Catholic Academy. We are the first step in helping our children to become lifelong learners!
Our environment is inspiring and enabling. We help our children to develop positive attitudes for learning so that they can make the most of every opportunity that comes their way. We celebrate each child's uniqueness and provide a learning experience that is focused on developing the whole child through play, and in a safe and nurturing environment, both inside and outside.
Everyone learns differently and our provision is designed to encourage children to make choices and decisions that will develop their autonomy and critical thinking skills. Our curriculum is specifically designed to meet the needs of our children. We focus on developing commination and language skills to ensure that all our children can flourish and thrive. We help our children to learn new vocabulary and develop the skills to hold meaningful conversations using strong language skills which have been inspired by quality texts and the exceptional role modelling of oracy skills from adults.
We help all children to raise awareness of themselves and celebrate what a super individual they are within our community. We help them to consider their place in the world whilst developing their sense of ambition and their aspirations for their futures by teaching them about inspirational people from a range of cultures and backgrounds.
Rooted within our curriculum is the teaching of our mission statement and school values, which underpin the Gospel values. Our children show love and care for one another, develop strong relationships and respect one another.
Our high expectations of the children enables them to develop spiritually, socially, physically, intellectually and emotionally to achieve their full potential. Our curriculum is ambitious and lays solid foundations for children to become enquiring, independent, resilient and confident learners.  We will ensure that children are kept healthy and safe and that they achieve the knowledge and skills they need to create a firm foundation for the rest of their continuing education.
We have a statutory obligation to follow the Early Years Foundation Stage Statutory Framework (2021) in nursery and reception. We offer a range of learning experiences and opportunities which underpin the four underlying principles and three Characteristics of Effective Teaching and Learning:

Within the theme of Learning and Development, there are three prime areas and four specific areas of learning. They are all connected to one another and are all equally important. We ensure these are threaded through all of our EYFS curriculum and provision we offer.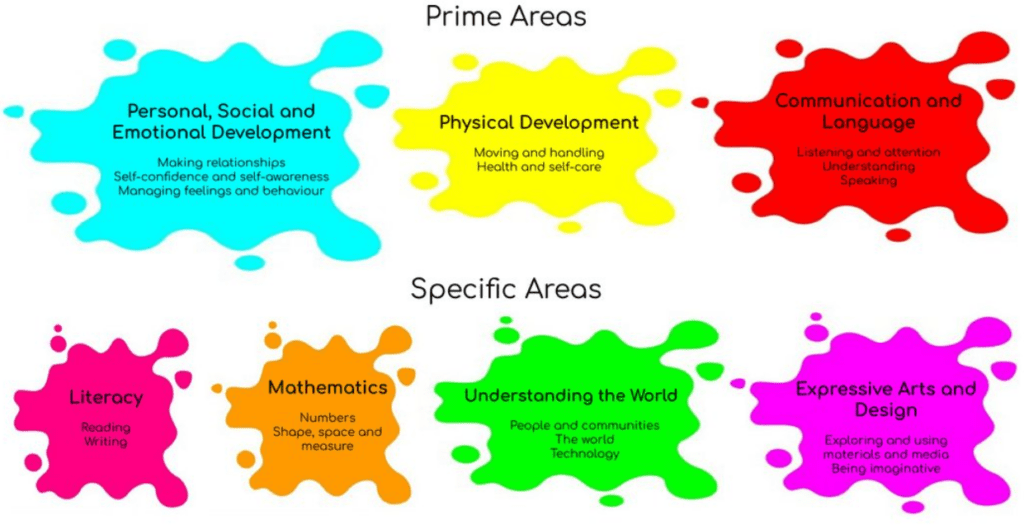 At the core of all children's learning is play. Play is an essential part of the early years curriculum. It helps children to develop their social skills and their self-regulation, become more imaginative, more creative and be better prepared to tackle difficult problems and solve them.
We also use the 'Development Matters' 2021 document to guide our teaching and learning throughout the Early Years, ensuring that the children have mastered the skills and gained all the knowledge that is essential for them to achieve the ELG's across the 7 areas. We plan an exciting and challenging curriculum based on topic led learning, our observations of children's needs, interests, and stages of development across the seven areas of learning each half term.
Our phonics teaching starts in Nursery to give own children the best opportunities. Please see our Phonics page to find out more.
Read out EYFS policy below to find out more:
Please visit our class pages for more information on our learning, routines and opportuinties we offer.