School Uniform
School Uniform Policy Statement
At St Margaret Clitherow, we take pride in our uniform and expect all children to wear full school uniform everyday. The pictures below show our school uniform.
Red jumper or cardigan containing the school logo
White polo shirt with the school logo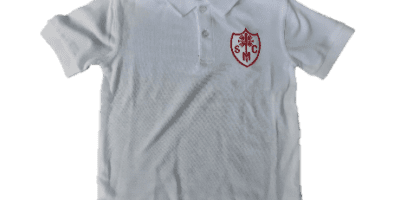 Dark grey trousers, shorts, skirt or pinafore dress
Other items of uniform that you may need:
Red gingham summer dress
Plain red, black, white or grey tights
White or grey socks for girls
Grey socks for boys
Sensible black shoes, ones with Velcro fastenings are the easiest for young children (not trainers or plimsolls)
If your child has pierced ears, earrings should be studs only. Earrings should be removed for PE days. No other jewellery is permitted.
Hair decorations should be minimal.
Please ensure that your child's name is in all items of clothing. Sometimes items of clothing do go missing and it is a lot easier to find them if they are clearly labelled!