Design and Technology at SMC
Subject Leader: Carol Holmes
At St Margaret Clitherow Catholic Primary Academy, we value Design and Technology (DT) as an important part of the children's entitlement to a broad and balanced curriculum. Our DT curriculum intends to be inspiring, practical, meaningful and memorable.  Using creativity and imagination, pupils design and make products that solve real and relevant problems within a variety of contexts, considering their own and others' needs, wants and values.
In our DT curriculum the children learn and build on a range of practical and technical skills (see our DT Intent documents below), testing their ideas and critiquing and evaluating both their own products and the work of others. Our intent is our DT curriculum equips children with life skills, knowledge and understanding to be children that can plan, think creatively, solve problems, consider the needs of others, take risks, be resourceful, be innovative and be enterprising.
All children will acquire a broad range of subject knowledge and draw on disciplines such as mathematics, science, engineering, computing and art. A range of skill are incorporated into the programme of study and are revisited throughout the children's time with us at SMC, for example, model making, drawing, safe use of tools, food preparation and nutrition, problem-solving, observation and discussion.
Through the evaluation of past and present design and technology, the children can develop a critical understanding of the impact of Design and Technology on daily life and the wider world.
"High- quality design and technology education makes an essential contribution to the creativity, culture, wealth and well-being of the nation" 
The National Curriculum
To find out more about the DT Curriculum at SMC, please read the DT Policy below.
Our Design and Technology curriculum promotes curiosity and a love, and thirst, for learning. It is ambitious and empowers our children to become independent and resilient – like all curriculum areas. We follow the 'Kapow' scheme which offers our children a broad and balanced DT curriculum, providing them with unforgettable projects and specialised skills in woodwork, textiles, food, structures, mechanical and electrical systems. The Kapow DT scheme of learning offers full coverage of the KS1 and KS2 DT curriculum and the content is categorised into six areas, with four strands that run throughout.
Kapow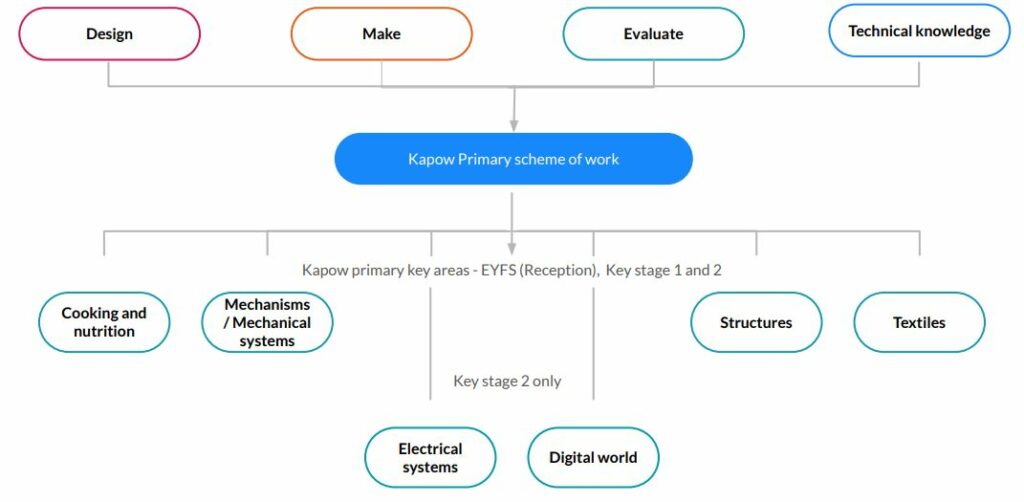 Three units of DT are taught are within each academic year (once every half term). Whilst some cross-curricular links may be observed to enrich and extend the teaching in other subjects, DT is taught as a subject in its own right as stand alone lessons.
Units of lessons are sequential, allowing children to build their skills and knowledge, applying them to a range of outcomes. Key skills are revisited again and again with increasing complexity in a spiral curriculum model. This allows pupils to revise and build on their previous learning so they know more and remember more.
To find out more about the DT Curriculum at St Margaret Clitherow, please read our DT Intent Documents below:
Design and Technology Intent Topic Planner
Design and Technology Intent Document
Design and Technology Progression of Skills